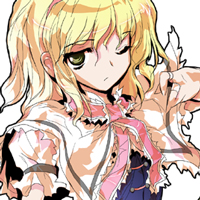 Alice Margatroid
Touhou
Perfect Cherry Blossom
Worn at: Sakuracon 2013, Sakuracon 2014
I wanted to do the younger version of Alice but I was figured it was unrecognizable.
I didn't have access to a sewing machine before this con so I ordered the wig and dress on Taobao. The store completely ignored the measurements I gave them so it's rather big on me. The wig is from Lucaille and is very nice and soft. I bought the "grimoire" at a University surplus sale. I made the red bindings for it.
The boots, petticoat, and leggings I had already.