Arrival!
August 11, 2022
I accidentally woke up early yesterday while intending to sleep in so I watched the Splatoon 3 direct. I groaned through the entire thing with the awful english voice-over this time. The big thing I hate is announcing "LARGE SCALE DLC" before the game is even released. It's even about Marina and Pearl.. I hate when games do this and it makes me want to spend my money elsewhere. No microtransactions announced though. I do consider that one a dealbreaker.
The idols were revealed! I like that they went with a traditional Japanese theme for them, but I'm not sure about their designs. Also wow they went full boke tsukkomi!! When I first saw them, I was a little shocked they went for male idols this time! A few hours later I googled Shiver's name and saw on some wiki Shiver is a girl?
There's no way Shiver and Frye are girls. No way. Shiver is the gayest dude I have ever seen. I refuse to believe that octopus is female. I don't even care if Fuuka is a girl's name! Also why is he so sexy? It's a bit over the top of a kid's game. Frye could maybe be a girl. You can convince me of that if you tried.
I think we all know Marina and Pearl are the best cephalopod idols of all time. Can't beat em. Don't even try. Marina is perfect and Pearl really grew on me. I adore them both!
Kiki arrived this morning! Please check out her box opening! The tracking number said Monday last night so I was very happy to see an "out for delivery" this morning. I watched the mailman park.. and leave... but didn't hear any knock! I thought he ditched me! Ryan told me to check the porch and oops Kiki was there waiting for me outside.
I'm still not sure what I want to do with her faceup. I've been trying ideas out on paper, but I noticed I dont have brown or black gouache after the staining incident. I could go with purples and blues though! She's already a funky looking doll so unnatural eyeliner wouldnt be the weirdest thing ever. I was already planning dark pink to brown for it.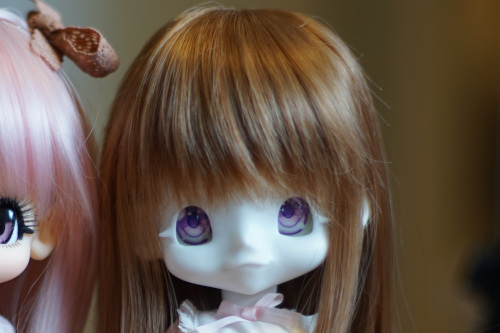 I'm not quite sure what I'll do about the eye issue. Her head is so strangely shaped that you can only fit eye chips in there. Forget half or round eyes! I only have one other pair of eye chips, which are 24mm Blue Rose Garden. They fit, but not well. There are huge gaps at the bottom of her eyes. Maybe 20mm or 22mm would be better? I think I'll just leave her ghost eyes in for now while I try to come up with something. Hopefully KJ will restock their kinoko eye selection soon.
After this experience, I will never buy a secondhand MNF Chloe. I am just not strong enough to buy highly recasted dolls! Despite nearly every detail about this transaction telling me this doll is definitely legit, I was still in a panic the whole time! I know I am just nuts, but I emailed KJ with photos for peace of mind (and also to tell them I love them).
I have resin dolls from all three major (even though two are rather minor) Japanese BJD companies. It's a little wild! There were more in the past, but it's pretty much down to Volks, Alchemic Labo, and Kinoko Juice now. My last non-Japanese BJD was purchased over 10 years ago! I still have high opinions of a lot of Korean dolls but there's something really nice about the designs these companies produce.
What should I name her?! All my Japanese dolls have Japanese names so far so I could stick with that or say h*ck it! I have been saying "I'm going to name my firstborn ____" for years and honestly at this point I don't think it's even possible for me to have that many firstborns. Would anyone even let me name our child "Jericho Phillips" anyway?
And don't worry! Hina is still my favorite.