happy miyavi's birthday
September 14, 2022
Did you guys hear the queen from the minions movie died?? I didn't think she was capable of escaping from her immortality! But, Diana will always be the queen in our hearts.
While cleaning, I discovered my first copy of Photoshop! It's called IBM Magic Canvas. I don't see any videos about it on youtube. Was I the only one?? We have a ton of educational "games" that I can't remember playing. I do remember all the Humongous games and HOW MANY BUGS IN A BOX. I had so much fun with those.
I ventured out into the "big" city with my mom. I never realized how small the big cities out here are until a few years ago. They're really nothing compared to any city in the Seattle area.
i mostly only found movies at the goodwills we stopped by. I've been looking for Drive ever since I found out Real Human Bean was from a movie.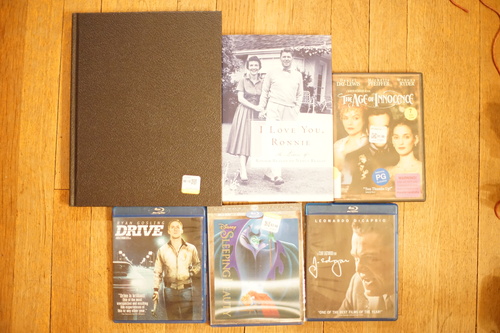 Blick hardcover sketchbook $1.99

Did i need it? no!

I Love You, Ronnie $4.99

I already owned a paperback of this, but my mom couldn't let me leave the hardback we found! This book was so cute.

The Age of Innocence $1.99

We're upgrading Ryan from his VHS copy

Drive BD $3.99
Sleeping Beauty BD $3.99

For Ryan, sealed.

J. Edgar BD $1.99
I discovered an autistic art supply store while we were out! I bought a pentel brush pen, a rose sakura pigma brush pen, brush cleaner, blue .5mm lead refills, and a white POSCA marker.
I've been wanting a brush pen for a while and my fountain pen ink in daiso pen experiment was very messy and didnt work well. maybe my daiso brush pen was just too leaky for this purpose.
they had a (full!) posca display but no copic display. I tried the spectrum AD markers but I couldnt get them to blend so I skipped buying any. they even had gouache singles! I'm still too cheap to buy them ;_;
I've now been to hobby lobby, joanns, a smaller craft store, and michaels without wanting to buy anything. my pickiness is saving money!
I found a few more CDs. All $1 each. Just imagine the beautiful cover art because I didn't take a photo.
Wang Chung - Points on the Curve

I'm nervous about the scratches on this one but I want more Wang Chung and I NEVER see them

Men at Work - Business as Usual

The greatest hits album was very fun to listen to so I'm buying a real album.

Three Doors Down - The Better Life
Goo Goo Dolls - A Boy Named Goo
Simple Plan - No Pad, No Helmet... Just Balls

Wow nice blink-182 album name guys

Howard Jones - Cross that Line

I was really hoping to find earlier albums but this one is still in the 80s so I'll try it. I was not so into his 1992 album.

52mm Sigma lens cap $.50
And... a pile of stuff. Some of this is from the last blog post but didn't get into a photo for it.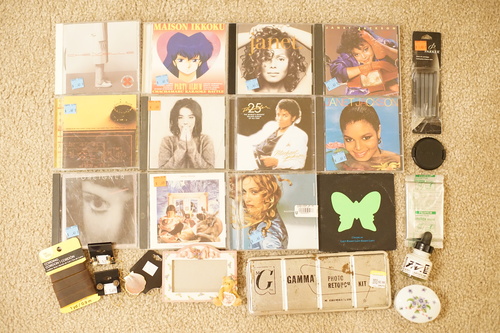 Chevelle - This Type of Thinking $.49
Maison Ikkoku Party Album $.49

What is this?!

Janet Jackson - Janet $.49
Janet Jackson - Dream Street $.49
Chevelle - Point #1 $.49
Bjork - Debut $.49

This disc is somewhat scratched but I want this album so bad. Pls be as great as Post *prays*

Michael Jackson - Thriller $.99

Do not @ me if you think Thriller is MJ's best song. It's not.

Janet Jackson - Janet Jackson $.49
Foreigner - Inside Information $.49
Wang Chung - The Warmer Side of Cool $.49

I can't BELIEVE I found 2 wang chung albums in a week.

Madonna - Ray of Light $.49

Ryan: "I'm looking for a Madonna CD. Ray of Light"
Me: "Done."

Coldplay - LeftRight Left Right Left $.49

Seriously? What is this name?
And some non CD buys:
Leather cording $.99
Grandma's earrings $1.99
Earrings that will get caught in my hair constantly $1.49
Shell necklace $1.99
Cherished Teddies photo frame $.75

a perfect excuse to get out my paints!

Gamma Photo Retouch kit $2.99

I will be on a quest to see if these will work for faceups. They appear to be water based.

Parker fountain pen refills $1.49

I just wanted the ink tbh

52mm Sigma lens cap $.50

Already mentioned...

Instax mini film $.99

Expired in 7/2020

white acrylic ink $2.99
Lennox violet container $1.99
I get home and my computer starts complaining about ATA6 and of course that's my DVD drive. I must have jiggled the cable wrong while checking all of my loose hard drives a while back. I'm using the usb DVD reader I bought a month or so ago but it's definitely usb 2.0 slow. Not great when I have a pile of CDs to rip...