group photo failure
November 20, 2022
BIG ANNOUNCEMENT: I am not participating in the Thanksgiving Challenge this year. The last 2 years were rough and not fun. I will be keeping a close eye on the challenge and I hope that everyone will try their best.
I decided I wanted to take a photo of all my 1/3rd resin dolls today. After retying Cheby's obi and fighting with Hina for an hour to get her kimono on, Hina decides to take a tumble, constantly kick off her geta, and knock over the Christmas tree. I give up!!!! I lost all the natural lighting during set up. I was able to take a few photos of the trio together but I was so mad! I really wanted to get them all in there today.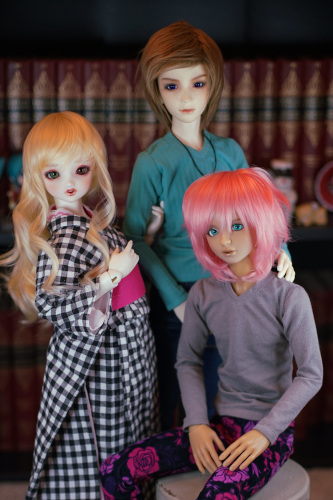 I hit the thrift store yesterday for the first time in a little while. I didn't find much but I got to listen to the ESL cashier try to explain that you have to pay for your items and tax to two ESL or non English speaking men. It was a mess.
Moby - Play $1

Ryan wanted it. Not really sure who he is.

Neewer reflector $1.99

This thing is HUGE and I already hit myself in the face with it. I have no idea how to use it.

loew-cornell 3/4" wash brush $.10
I totally fell down the wrong rabbit hole. I was thinking I should memorize Tokio Hotel's Durch den Monsun since I know baby german and it would be fun at karaoke parties with my dolls. I even have a camrip video I took of the music video on TV from 2007. Surely I had discovered jrock by then right? Anyway, still groundbreaking to lil me.
So I listen to the German verison first. They are BABIES in the 2005 original! Holy carp!! CHILDREN! Yet, at 16, I wouldn't really expect his voice to still be so high. I guess it's possible. The 2007 English version is a bit lower, but his voice is still very high. He should have been 18 by then ...which is strange. I used my big brain and decide the best possible version would be the German lyrics recorded 2007 at the time of the English release. He can still hit high notes, even if not as high as the original, but he can go lower in the final chorus. I think the drop there really adds to the song.
I started thinking, what does this guy look like now?? He should be well into adulthood by now since he's a few years older than me. Don't tell me he still has the same hair.
I discovered our dear tiny teenage Bill Kaulitz now has an onlyfans. What exactly is on this onlyfans... i dont know... Do I want to know? I don't think so. And I'm sorry for telling you.
There is also a 2020 version of Durch den Monsun. It's very modern. And a Japanese version with a different sound and a translation that is still mostly in German. Nice try, record label.