Happy December!
December 3, 2022
It's been very cold lately. The snow is reminding me that the world is covered in pee all year round and I just can't see it.
I convinced Ryan to go to some sort of "craft fair" thing I saw advertised on a poster and we went! Surprisingly, the fair existed (unlike last time) and there was not a single MLM! Unfortunately they were selling nothing I wanted to purchase. Maybe next time.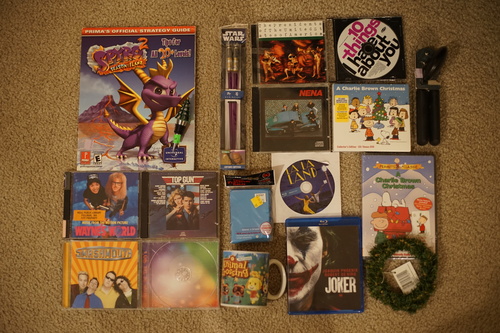 Ryan's thrift store finds
Spyro 2 Season of Flame Guide $.30
Christmas tree bottle topper $.99
Wayne's World OST $1
Top Gun OST $1
Smash Mouth $1
Alive in the 90's $1

He bought it for Radiohead's Creep and it was censored. Sad!!
My finds!
Kotobukiya Lightsaber chopsticks $.50

Ryan did not know why I wanted these until I tried putting one in Hina's hands

The Presidents of the United States $1

I gave it to Ryan because I really only just wanted to rip Peaches

10 Things I Hate About You OST $1

There's another CD behind this disc and it's Ashley MacIsaac's "Hi™ How Are You Today?" I don't think I'm going to rip it.

Nena - Nena $1

Score!!! Happy to find this!! I have only like 2 CDs in German because not enough Germans sing in German.

A Charlie Brown Christmas Collectors Edition $1

Does Starbucks have the rights to this or something?? Unopened.

oxo can opener $1.99

text me if you don't have a good can opener

UltraPro deck sleeves $.50
La La Land BD $1

Another Ryan Gosling movie for my pile of Ryan Gosling movies

A Charlie Brown Christmas $1

Ryan said I had to get this one even though the CD contained the episode because this one has a bonus episode. Unopened.

ACNH mug $.60

See below.

Joker BD $1

I've seen it before and I was thinking about watching it again. Price was right.

mini wreath $.30

Where do I find ornaments small enough for this?! Can I hang it on my doorknob? Or my tree?!
Ryan and I came up with a really awesome AC shrine for the release of New Horizons. Too bad it wasn't enough to summon a finished game. I have no hope for the next game. I'm not even sure I've bought any AC merch since the release of the game until today.