Reflections on 2022 doll plans and new 2023 plans
December 5, 2022
Looking back at my 2022 doll plans. It's snowing today like it was during that post, but no squirrel in the tree this year. I can't believe I wrote this before even getting Hina! A lot has happened in the last year. How'd I do?
1. don't buy new dolls
I failed, but I knew I would. In 2022, I bought Praline (and you may be able to argue Cheby). It's unrealistic so I'm skipping this one for next year.
2. save up for unoa rowan prim
I didn't even TRY! The thought of paying with a credit card for the doll to be sent to a proxy was too much for me. I'd be pretty out of luck if it never arrived to the proxy or if the proxy dropped off the face of the Earth. It still could happen someday I suppose, but I think it would be secondhand. I kind of would like a 1/3 Volks, KJ, AL girl trio.
3. Buy a body for my migidoll miho
Success! I am so thankful I did this finally. It was a huge weight off my chest and now I love this doll.
4. locate and buy nice glass eyes
I only bought one pair of eyes this year, and they were for Hina. Everyone else is still in their old eyes. Total failure!
5. find something nice to keep my dolls in
Success!!! Giant doll holding chest: purchased! Unfortunately not all my dolls fit in it ;A;
Most importantly: Have fun!!
I was wildly successful with this one!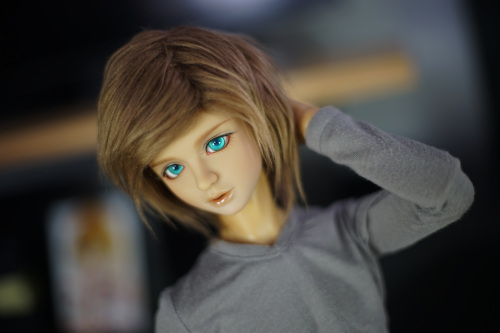 My goals and plans for 2023
1. Buy every new issue of Volks News
These are so fun to look at. I bought every 2022 issue, and I'd like to keep up the trend! I'm satisfied with just owning photos of dolls in a magazine.
2. A pair of shoes for every child doll
I dread this. I hate buying pleather shoes. Maybe I should become a doll cobbler.
3. Learn how to use my airbrush, if only for sealant.
I used it for dusting this year. Well, at least it didn't go unused.
4. Locate and buy nice glass eyes (again)
If I put it back on the list, maybe it'll happen! I like Salafina eyes but I'm not sure if they produce them anymore because they never have the sizes I want! I was looking into DollyPlanet beetles eyes too and then saw feedback saying they're unresponsive and gave up on that idea.
5. Buy wigs
I only ever want to buy girls wigs in 8-9, but I have many more dolls that are not 8-9 girls.
6. Make a decent wardrobe for the boys to share
Their selection is pathetic and I own 4 dolls in this size.
7. Buy Kinoko Juice 58chan, only enter lotteries for VERY precious dolls
I only have plans for one new doll, but I don't fully trust KJ when they say she'll be released next year. This could be a 2024 doll plan! Cheby will have to be an incel a little bit longer.
It's always possible Volks will announce a new doll I absolutely need, but it doesn't happen often. My current list for dolls I would enter a one-off or rerelease lottery for are: Miruku and RG Williams. It's not like Americans get a ton of chances to enter for one-offs so I'm not expecing it to happen.
Two secondhand dolls I may be willing to buy: Volks Unoss and AL Rowan Prim. I think I would only want one of the two and am in 0 rush and would be okay to never get either.
8. Create a look for Verona that I'm happy with
I need to be brave and wipe his faceup next year.
9. Attend a meetup
This one won't happen but I would love it if it did!