Another VIC-20 enters my home.
watching: Yuyushiki
playing: Ace Attorney

January 22, 2022
The power was out when we woke up so we walked down to the coffee shop downtown. I convinced Ryan to go to the vintage and music store while we were down there.
Ryan found a VIC-20 on the floor with a small label saying $20. There were a couple games inside and so he tried to buy it and the owner was on the edge about it and said the $20 tag was what he paid. There was a copy of music composer which he wanted to sell online, but after 30 minutes of him helping other customers and us hanging around, he told Ryan he could buy the whole box for $10. Score?!?!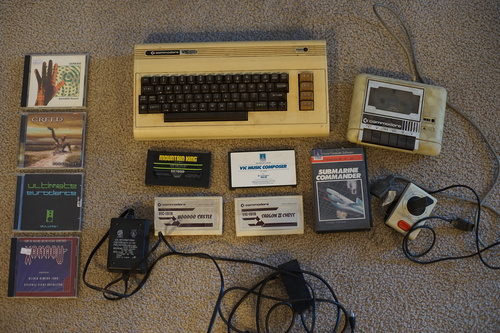 Genesis - Invisible Touch $3

Invisible Touch is my 2nd favorite Genesis song. The version of Tonight Tonight Tonight on this one is super long holy cow!!!

Creed - Human Clay $3
ultimate eurodance Volume 1 $3

Ryan's

Xanadu OST $3

Ryan's

VIC-20
Mountain King
Vic Music Composer
Voodoo Castle
Sargon II Chess
Submarine Commander
I held the Canon FL 35mm again but didn't have my camera on me to test it. I'm still on the fence about buying it because I'm not sure 35mm would be beneficial for photographing dolls.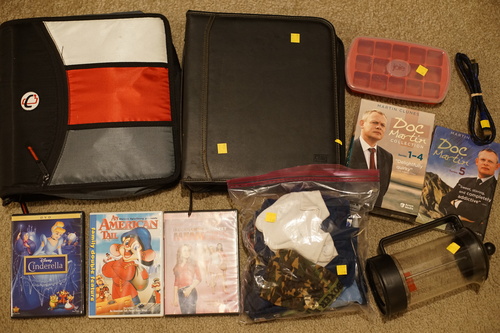 Case-it binder $3.99

Now my massive pokemon binder issue will become 2 issues.

CaseLogic DVD binder $3.99

Ryan's

joie ice tray $.99

I think it's an ice tray? I'm not going to use it for ice though.

HDMI cable $1
Doc Martin Seasons 1-5 $1.99 each

I already bought season 7 for my mom so I guess I need to look out for 6 and 8-10. I tried searching google to see which season I already bought for her and google didn't tell me. grep did (after I bought it!)

Cinderella DVD $1.99

Ryan's

An American Tail + Fievel Goes West $1.99

Ryan's

Mean Girls $1.99

Ryan's

bag of Build a Bear clothes $2.99
bodum french press $2.89

For Ryan's office or whatever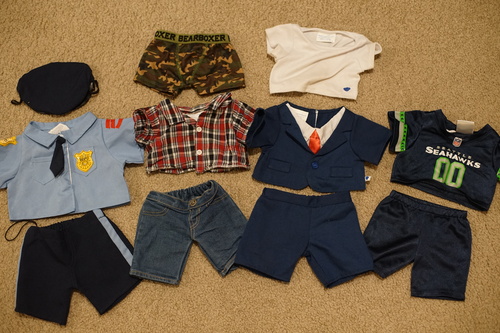 And the contents of the BAB clothes bag! There was also a bag of shoes but shoes don't fit my pikachu very well. I love the police uniform and the suit. SO CUTE. My pikachu doesn't fit in pants either so he's probably going to be one of those sexy gay cops who don't wear pants.