a day
May 13, 2021
i found my friend at the thrift store today! it's always fun to see him!! I finally got to introduce him to my friend who played splatfests with us!
i checked the purses on display at the front of the store and the cashier was excited to show me them. they were priced over $200 each and i pointed out to him that the prada purses were obviously pleather and disintegrating. hopefully they look more into checking for fakes now before selling them for so much. This is the same thrift store that sold the fake (but leather) hermes to me for $5. they must be only looking at brand names they recognize. I also found a passport case and i opened it and 2 credit cards fell out. people really should be more responsible....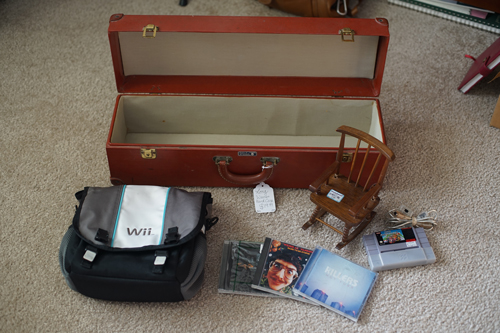 Warren hard case $18.00

60 cm long. Lieselotte should be ~55 cm, so I am excited to put her in this! my mom said she comes with a box, but surely this is a nicer box than cardboard. I don't know if its worth what i paid but its so perfect in size for an SD girl

Wii bag $5.99

im gonna put my wii in it

doll rocking chair $2.99

absolutely falling apart but i have wood glue

Staind - Dysfunction $.99

i didn't recognize any songs on the tracklist but i've spent my fair share of time singing staind songs so i'll probably enjoy singing some of these too

Weird Al - Dare to be Stupid $.99

Ryan told me to buy this one but Amish Paradise isn't on it!!

The Killers - Hot Fuss $.99

nostalgia

SNES Mario Kart $28

Ryan made sure this made it into my photo

GBA Cable $10

Also Ryan's!
i really recommend carrying measuring tape when thrift shopping! i thought i left mine in my other bag and was searching the store so i could measure the case! luckily it was just in another pocket! i use it for measuring the waist on clothes too so i wont buy skirts way too big for me. its tough not being able to try things on.