my warning: the disturbing case of "dollshe"
September 10th, 2021
many doll lovers may be unaware of the issue with dollshe lately. dollshe used to be a huge name in the BJD industry because of his semi-realistic dolls which was a style very uncommon at the time. he has been a name since pretty much the beginning of bjd.
in the doa waiting room thread, there are more than a few users who claim to have been waiting for well over a year for their orders. some are coming up towards 3 years. many users have requested a refund, gotten a refund, or are still patiently awaiting their dolls.
apparently, dollshe had a huge event around the time all these orders were placed. during his events, he often marks down dolls originally priced at $1350 all the way down to $370 (for example). during 2019, his orders had around a 1 year wait time.
dollshe, as of today, is advertising dolls that have not been created yet. these heads are currently only 3D models. in the fine print of the page, mr.dollshe promises "Orders will ship in around 50-60 business day upon receipt of payment", but also comes in with a "Orders placed during special event periods may take longer to ship."
he released a notice in late august begging for people to stop canceling their orders. as far as i can tell, this post is just damage control. he takes the blame for the wait and offers solutions.
mr.dollshe claims to be in this mess because he took preorders during the 3D modeling phase without creating a mold or a physical prototype. despite posting the notice, he is still continuing to take preorders for dolls that aren't going to exist in a timely manner. I don't believe his claim is the entire truth, because dolls that recasts already exists of have not been shipped yet either.
im sure mr. dollshe is well aware that sending out refunds to most of his customers would end his business.
let me remind you what your rights are to your money outside of the 180 paypal protection period: none. your money does not need to be returned to you. you are at his mercy of getting a doll or a refund. if you bought through a dealer and the doll company goes up in flames, your dealer is either going to be taken out along with the doll company by sending out refunds or will just refuse to refund. your money has not been in their pocket since the order was made.
if you do not fully trust the company making your doll, do not let the wait exceed 6 months without filing a claim. for your own safety. after this period is over, your recourse is gone.
will you be banned from ordering again if you file a claim? probably. do you actually want to deal with this company again though? will this company even exist?
i've noticed a few users in the waiting room blaming others for their wait because "karens" were harassing mr.dollshe about their unfufilled orders. they have forgotten who is truly at fault for their order taking years. please do not blame the people also in your position. mr.dollshe is your enemy, not the other customers.
my big point is: keep your money safe, fight for what you paid for, don't (pre)order from a company with a 1 year wait time. (for non doll people, 99% of orders are paid in full at the time of order, not right before shipping, which is usually 1 to 6 months later)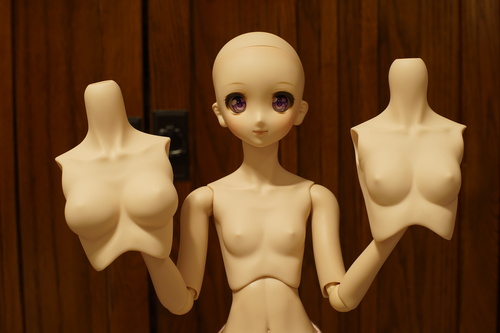 congrats for making it to the bottom of my consumer safety rant! your reward is a comparison photo I took tonight of the DDS busts in M, SS, and S! Enjoy!