Happy Valentine's Day!!!!
February 14, 2022
lots of pictures of my love to celebrate!
I took this next one in January but I think I like the one I just took better. I did the wild thing where you take a paintbrush to your $1k doll today and gave her smile marks. it was terrifying and i couldnt stop shaking but i think it worked out okay. im so happy to see her smile :3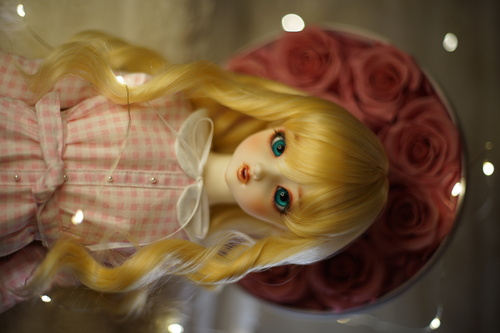 Valentine's day is also.... Frederica's birthday! I took another photo of Ryan's figure this year.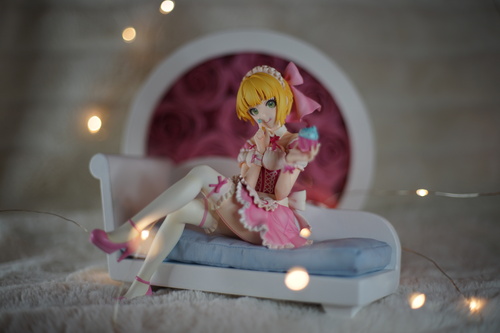 I also gave Karen some time in the spotlight. I though her look was perfect for a Valentine's Day shot. She's quite a bit shinier than Freddy of course, but prize figure quality really has come up over the last 5 years. She's definitely not the same quality as a scale but they did a lot better of a job sculpting than they used to.
it's been so lovely outside! a break from snow is very welcome imo. ryan and I got to take a walk on saturday where we hit both thrift stores and the used book store!
cast iron pan $3.65

looks antique but the bottom is so "well seasoned". I scraped it off but only found "No.5 8 1/2 in." Who knows which brand that is. I'm always looking at cast irons with smooth interiors.

guitar hand thing $.95
Tokyo Look Book $0

I've been wanting this book for months at the book store but it was $6 and the binding was completely destroyed. I just couldn't justify spending money on a trash book even if there were pictures of Mana-sama inside. I went up to the employee and tried to politely ask for a discount because of the binding, and she told me "We don't sell junk books. You can just take it." I'll see if it's any good before I try to fix the binding.

Jumbo book cover $.59

idk why ryan wanted this because i never got them to fit over my books.

chalk $.20

hopefully i can carefully mark some fabric with this. warn me now if thats a bad idea

Happy birthday Grandma card $.25

it's so cute ;_; i wish i had a grandma to send it to. i wanted to send it to my mom instead but ryan says that will just give her a heart attack

Punch-Drunk Love $.99

never heard of it.

wool(?) scarf $1

someone liked this enough to stitch their name tag into it

1k card sleeves $5
The Gulag Archipelago $.50
Dritz Quilter's Gauge $0

Thrift store lady thought this was worthless and said it cost 10 cents but then forgot to charge me and didn't care to fix it when I asked if she remembered.

"let's get together" cards with birds $.25
half a broken doll stand $.95

hoping I can get this to hold up my hina dress form.