welcome to my gear thread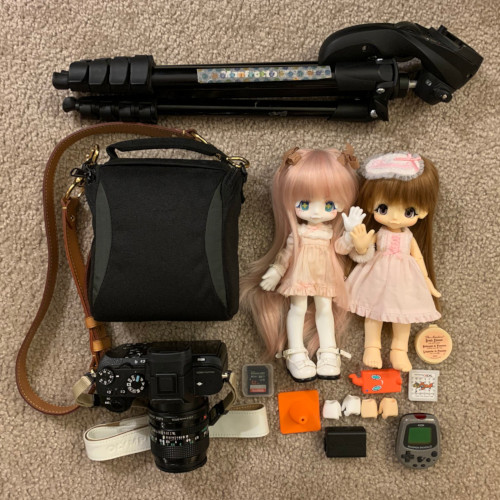 This is my secondary hobby! My favorite subjects are dolls, Ryan, flowers, and baby animals, and also grown animals. I'm always trying to find a way to make my camera fit safely in my purse so I go through thrift store camera bags like crazy trying to find the smallest padded bag I can fit my camera in.
I don't try to remove the exif data on most photos if you're curious about what I used. Sometimes one of my resizing programs dumps it though...
Current:
Sony a7 II

I like this camera a lot! It's nice and my favorite to use. The body is small and lightweight (relatively). It was my college graduation present from my mom! I chose it because it was the cheapest FF (at the time) and I didn't want to upgrade from APS-C to FF in the future. I am tempted to buy a small MFT to throw in my purse sometimes...

Sony FE 50mm f/1.8

This lens makes me sad because it has no manual controls. It will be useless someday. There's not a lot of times that I use autofocus, but if I need it, I'll bring this lens.

Canon FDn 50mm f/1.4

I am definitely abusing f/1.4. I am not sorry yet. Probably from June 1980. There's some grease on the aperture blades that worries me. I use this one all the time! It's my favorite.

iPhone XS

It's okay I guess. HEIC is the bane of my existence. Portrait mode can make some funny AI choices. This is better for taking room photos than my 50mm lenses.

Canon PowerShot G2

I don't play with this one very much because the battery lasts around 2 minutes. I can still used it while connected to the wall though.

instax mini 7+

my bestie bought it for me ;u; thank you!

Canon FL 35mm f/2.5

The aperture ring design is hella quirky (imo). It has trouble with sharpness on the edge of the frame.

CIMKO MT-X 28-105mm f/3.5-4.9 Macro

The minimum focal distance for this one is... 2.5m?! Jeez, I guess I'd better go outside. I have no idea if it can't focus in macro mode, if it's broken, or if I just can't figure it out. help

Canon FD 35-70mm f/3.5-4:5
Canon FD 75-200mm f/4.5
Canon FD 50mm f/1.8
Accessories:
Manfrotto MKC3-H01 tripod
Sony NP-FW50 battery x2
Watson B-4228 battery pack

it worked fine for the first few months but is unreliable a year later

Xit Pro Series 2.2x HD AF Telephoto lens 52mm

this is laughably bad!!

Xit Pro Series 0.43x HD AF wide angle lens 52mm
Xit Pro Series Digital CPL Filter 52mm
Xit Pro Series Digital ND8 Filter 52mm
Tiffen 52mm Polarizer
Quantaray 52mm Close-Up Lens Set +1, +2, +4
Hoya 52mm 85 Filter
Hoya gradual color blue 49mm
Sears 52mm K-2 Filter
Past:
Samsung Galaxy Note 3

At some point the motor stopped focusing and dust moved inside the lens. These photos were very iconic.

Google Nexus 5

I have good memories of this phone!!

Canon Powershot SD13000 IS

I used this one until my phone produced better quality images. It was a black friday deal.

Kodak Easyshare C613

My uncle bought this one for me after my fuji died. It was pink.

Fujifilm FinePix A400

My first xD card gave out early and the lens stopped retracting. I loved the photos it took, but you couldn't tell if they were blurry from the tiny screen.

Digital Blue

My first camera. I saved the software disc thankfully! The UI is miserable to get photos off this thing.